Money shouldn't stand between our Central Jersey customers and the necessary upgrade they need for their home. Edison Heating & Cooling financing allows you to move to a functioning unit without breaking the bank in one day.
24/7 Emergency Services — We are committed to our community.
Call: 732-372-7161
HVAC Financing Options Near Edison, NJ
Wells Fargo Bank, N.A.
Carrier brand HVAC equipment is the most trusted line of Residential HVAC products across the country. Wells Fargo Bank, N.A. offers the convenient Carrier® credit card to all Edison HVAC customers, with approved credit. The Carrier® credit card program gives you the flexibility to purchase the HVAC equipment you need today and pay over time.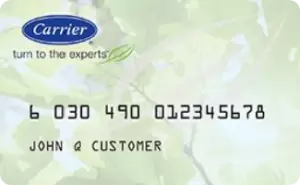 Invest in your home's comfort or respond to an unexpected heating and cooling need. If you are interested in Edison HVAC services and want to take advantage of the Carrier® Credit Card Program through Wells Fargo Bank, N.A., view the online application here ! Applying online is quick and easy, apply today and check the status of your application with a click of the mouse!
*The Carrier® credit card is issued by Wells Fargo Bank, N.A. with approved credit.