If your Edison, NJ or surrounding area business is in need of a commercial HVAC installation, there's one company to call. Edison Heating & Cooling is highly skilled in commercial HVAC and consider it to be one of our specialties.
Our technicians will help you to determine whether you need to replace or retrofit your HVAC unit, depending on the size of your business, your heating and air conditioning requirements and what kind of equipment will best suit your needs. Whether to get a new installed commercial HVAC system or retrofit an existing system is ultimately your decision.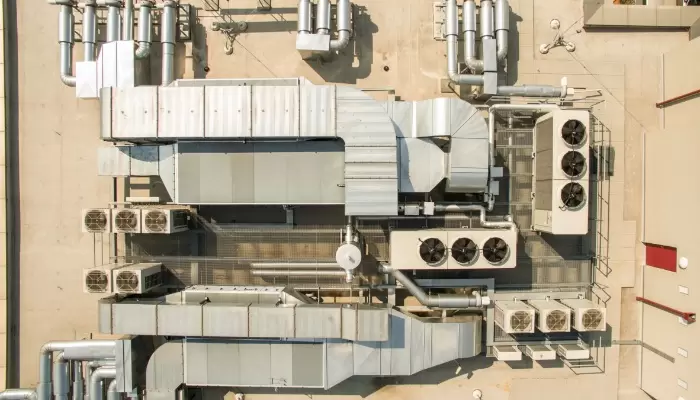 24/7 Emergency Services — We are committed to our community.
Call: 732-372-7161
How much does commercial HVAC service cost?
A: The cost of commercial HVAC services can vary depending on what service you need. Some factors that can influence the cost of services include:
Age of the unit.
Condition of the unit.
How much time the services will take.
Type of system you have.
Edison Heating & Cooling can help you no matter what your HVAC needs! Since 1987, we've been delivering great services from a friendly and professional staff. For more information about our commercial HVAC services, contact us today!
What are the benefits of commercial HVAC maintenance?
A: There are many benefits to having your commercial HVAC system maintained. Some of these include:
Finding hidden problems.
Preventing potential breakdowns.
Protection against future damage.
Reduced energy costs.
Longer system lifespan.
At Edison Heating & Cooling, we offer superior commercial HVAC services at a price you'll love. If your commercial property needs HVAC maintenance, contact us to see what we can do for you today!
When would I need to replace a commercial HVAC unit?
A: If your HVAC systems are acting up, you may need to get them replaced. Some of the ways you can tell that you may need to have your system replaced instead of repaired include:
If your system is over 10-15 years old.
Low efficiency.
Higher energy bills.
Frequent repairs.
The experts at Edison Heating & Cooling have the knowledge and experience to be able to properly diagnose any problems your system may have, and will be able to look at your system and know whether you'll just need repairs or a whole system replacement. Contact us today to find out what we can do for you!
Best Commercial HVAC Retrofitters Near You
One common reason to retrofit an existing unit is cost. A new unit is costly and installation could disrupt your business, whereas a retrofit may save you money and manpower.
As HVAC systems age, they become less efficient and less effective. This can mean higher bills without the benefits of a strong heating and cooling system. Retrofitting means adding new components to your existing HVAC unit to improve performance and energy efficiency.
Ask yourself:
Is my unit more than a decade old?
Does my HVAC unit require frequent maintenance and repair?'
Are energy costs increasing without use increasing?
If you've answered yes to any of these questions and a new system is either not cost effective or not practical, a classic retrofit could be the solution to your HVAC problems.
What we do to retrofit your HVAC system is dependent on what kind of HVAC system you currently have in place. Depending on which system you have in your commercial building, when you retrofit you can typically make significant changes in the performance of your system.
A few of the improvements that can be made are:
Add smart controls and temperature controls.
Add carbon monoxide sensors to make the unit safer for building occupants.
Change your compressors.
Install supply fan speed and cooling capacity controls.
Repair or replace faulty ductwork.
When Edison Heating & Cooling retrofits your commercial HVAC unit, we give you the same attention we give to customers who are installing entirely new systems. Making sure that your system runs efficiently and cost-effectively is our main priority when providing service to commercial clients.
Incredible Installation Experiences
If you're in a newly built commercial building or you've purchased an existing commercial space, there's a strong possibility you are in the market for a new HVAC system. If the existing system can't be retrofit, you have a few choices to make regarding the health and life of your HVAC. In the event that you need a completely new unit, Edison Heating & Cooling delivers the most hassle-free installation you've ever had.
We're business people. We understand that time is money and that the longer you are offline, the longer you can postpone reaping any returns from your building or business. We install your new unit in accordance with our exceptional training and high standards, so that the instant you get your unit running you are getting all the rewards of a newer, energy efficient unit that will last you for years to come.
Call Edison at 732-372-7161 to discuss your commercial installation or retrofit in Edison, NJ and the surrounding areas.