No time is the right time for a broken AC near Edison NJ! Your air conditioning needs to be at its best to assure comfort and safety for yourself, your employees and your family. Edison Heating & Cooling is your best source for air conditioning repair service, when you need air conditioner installation, AC repair, or a brand new residential heat and air system or a commercial HVAC system.
If you're looking for a new air conditioner, we have many central and ductless AC options that provide a wide array of benefits. Edison Heating & Cooling has your back!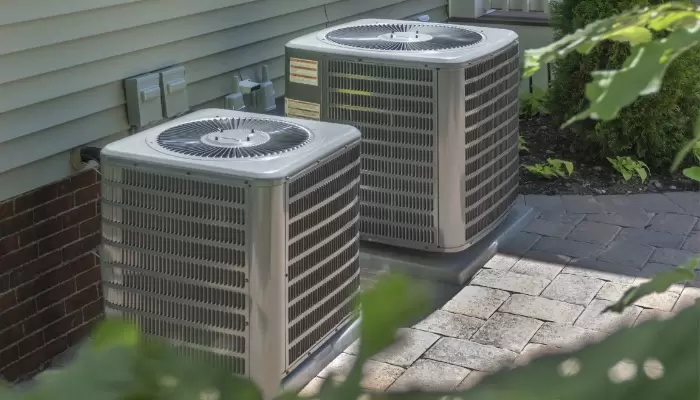 24/7 Emergency Services — We are committed to our community.
Call: 732-372-7161
Air Conditioning Repair Near Edison, NJ
Edison Heating & Cooling will assist you with all types of schedule and emergency repair work in Middlesex County. We know that having cool air in the hot weather is more than a matter of comfort for most families.
Babies, older adults and those with health conditions are especially vulnerable to heat, and our company understands that fast service is imperative for residents near Edison. It's also the reason you should contact a reputable company such as ours: to make sure any work that is done is completed properly. We offer tune-ups and AC repair service for residents in the area. Contact us for an HVAC service appointment today.
Tune-Up For Peace Of Mind
Has your cooling system had a tune-up lately? Many times, if a system goes untouched for months, it can lead to costly repairs down the line. Having a professional check out your HVAC system can give you peace of mind.
Tune-ups also help your AC system run more efficiently, which saves you money. An AC unit that has not been maintained can be quite the energy hog!
Whether your system just needs a quick cleaning or some worn parts need replacing, we can take care of everything so that your air conditioner runs smoothly as the weather heats up for summer. Energy efficiency is important to us because we know it's important to you.
When Is The Time Right?
Many homeowners and business owners make the mistake of waiting until the last minute to have their air conditioner installed, maintained or replaced. If you think your AC unit might be on its way out, it's helpful to call an HVAC technician ahead of time. This will give you some flexibility in terms of finding an air conditioning replacement, new air conditioner or fixing up your system.
What is the difference between HVAC and AC?
HVAC is an abbreviation for heating, ventilation and air conditioning. AC is an abbreviation for air conditioning. Both HVAC and AC systems regulate the air quality and temperature in a room or building. However, HVAC systems also include heating and ventilation, while AC only includes air conditioning.
What do I need to know about HVAC replacement?
When it comes time to replace your HVAC system, there are a few things you need to keep in mind. First, the size of the unit you need depends on the size of your home. Make sure you have a qualified HVAC technician do a load calculation so you're sure to get the right size HVAC replacement. You should also have your ductwork evaluated, as even the best HVAC system will struggle to keep you comfortable if your ducts are leaking. Finally, make sure your HVAC company offers several financing options to make paying for your new HVAC replacement simple.
Should I repair or replace my broken AC unit?
If you're facing a large AC repair bill, you may wonder if it's better to replace your AC unit instead of fix it. Most air conditioners last 10-15 years, so if your AC is already on the higher end of that age range, you'll probably do better to replace it. You can also go by the rule of halves - if your quoted AC repair is greater than half the cost of a new air conditioner, go ahead and replace it.
Benefits Of Air Conditioning Services
There are a few different factors that contribute to a quality air conditioning system that you can rely on when you need to beat the heat. Be sure to have a qualified air conditioning technician install your system so that it will enjoy a long and efficient working life. Whether in the home or the workplace, air conditioning services can make all the difference.
Energy Efficiency – A properly installed and finely tuned air conditioning system can be incredibly efficient; systems that are shoddily installed or go without maintenance, on the other hand, can be incredibly frustrating. Your air conditioner installation specialist can ensure that your unit makes the most of the energy it is allotted. This can pay off to a significant degree in terms of energy efficiency, which will reflect in your bills.
Household Comfort – The last thing you want is to throw money away on an air conditioner that fails to keep your house cool. If you ever find that your air conditioner creates uneven temperatures in your home, it may be time to call the pros for maintenance or repairs. Our technicians are highly skilled and prepared to bring your unit back up to speed.
Productive Employees – An overwhelming heat wave has a way of drawing out the workday. If you want to keep your employees motivated and productive, it's important to keep them comfortable. An efficient air conditioner installation will keep the heat from distracting your workforce.
For more information on the various air conditioning services we offer or to schedule an appointment with us, give us a call at 732-372-7161 today!